Reflecting the vibe and personality of the wedding is one of the most important aspects in wedding videography in our opinion.
That is why little details, emotions and words from behind the scenes carry such an importance. So of course the wedding video of J&I had to start with a joke from an Estonian "Kreisiraadio" Sketch comedy followed by a hamster performing Tom Jones.
When you add in all the laughter and surprise performances this wedding had in store, from the bridal party C-walk dance to the groom's father's duet with the Terminaator band bringing tears to each and every person in the audience – this wedding was special!
Lovely coastal location at Käsmu fisher village added a final great touch to the amazing day for newlyweds and their amazing guests.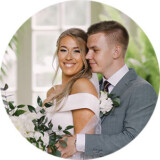 So so cool!
We first cried then laughed with hiccups 😀
We both love it!! This video really reflects us.
Wedding video starts with Kreisiraadio 😂😂😂 and that hamster!!