Southern Estonia has always been close to my heart, as this is where my roots are from. In fact, I was born in the small town of Põlva – just a shot away from the amazingly beautiful backyard of Janeli & Lennar wedding day.
Janeli and Lennar first met on a day where everything that could possibly go wrong went wrong. But like Lennar said during the golden hour of the wedding day to Janeli – it was a path to something amazing that was born!
This wedding video focuses on a great story of the newlyweds, but at the same time like the bride said: keeps the pulse so high, that it was impossible to get sleep after she first watched the video last night!
Enjoy this excellent outdoor tent wedding video that took place at newlyweds parents' beautiful backyard.
CEREMONY & WEDDING VENUE

FLORAL & DECOR

CATERING

HOSTS

OFFICIANT

PHOTOGRAPHY

INVITATIONS

Bride & mom

WEDDING DRESS

RINGS

SUIT

VIDEOGRAPHY

CAKE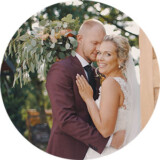 After watching the video, the last night was sleepless 🥰🥰
You really hit everything wonderfully .. And everything came to mind ..
The pulse was so high that we didn't fall asleep for a long time 🙈
Thank you, really!