Yesterday's wedding was perfect!
Kristina & Raido's wedding in the Old town of Tallinn and Kau Manor was luxurious, yet felt so intimate. You could literally feel the heart beat of the groom when the bride was walking down the aisle with around 100 guests in attendance.
But when the bride surprised the groom with live singing just before their first dance, it was not possible to hold back the tears. Just an amazing wedding, with a perfect setting (I mean just look at that amazing wedding tent!) created by exceptional wedding professionals.
Despite only a few hours of sleep after the double header this weekend (yes, we also captured a wedding in Southern Estonia the day before), we are absolutely excited to share this teaser video of Kristina & Raido wedding day!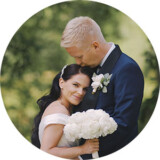 Oh my god!!!!!
We just watched the teaser! Just no words !!!! Chills and butterflies in the stomach! 🥺🥺🥺🥺😭😭😭😭😭😭
It's soooooiiiiiiii beautiful !!!! 😭😭😭😭😭 Big big thank you !!! ♥ ️ ♥ ️ ♥ ️ Awesome!