When you really dream of something, these dreams will become true.
As Anneliis said during her wedding, over the years Henry had fulfilled all her dreams, but there was supposed to be one dream that even Henry couldn't pull off due to COVID resistrictions – having their favourite band performing at the wedding day. Well indeed, the band could not perform at the evening reception but instead the groom absolutely surprised the bride and all the guests when they were on the way from the ceremony to the reception venue …
At the stunningly beautiful Palmse manor the couple pulled over … to see their favourite band Terminaator on the outdoor stage performing their first dance song. Everybody was in tears!
We hope this wedding video from past spring gives a glimpse of the emotions that ran through everybody on this amazing wedding day.
The pure joy that all the wedding guests and wedding vendors felt about the real event taking place with real people – it was just astonishing. The amazing band Terminaator literally wouldn't want to conclude their short performance because as they said – it was their first time being back on the stage this year!
GETTING READY

CEREMONY

Vainupea chapel

SURPRISE PERFORMANCE VENUE

RECEPTION

WEDDING PLANNER

FLORAL

HAIR & MUA

HOSTS & MAGICIANS

PRIEST

PHOTOGRAPHY

BAND

CEREMONY MUSICIANS

WEDDING DRESS

ACOUSTING DUO

VIDEOGRAPHY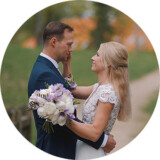 How awesome!!
Tears flow and we keep looking at it again and again 🙂 So moving, cute, real and at the same time conveys the party spirit that was at our wedding celebrations!
Thank you, thank you, thank you, Innar and Ramon!
The emotions are still sky high 🙂