Saturday's sunset ceremony was fantastic!
Brilliant idea that makes the whole ceremony atmosphere just magical. You could sense how having the ceremony later in the evening with an amazing sunset was building up the excitement and when the bride finally walked in with her dad, the groom (and pretty much everybody else) were just in tears.
Amazing moments that definitely deserve the next day teaser you can now enjoy!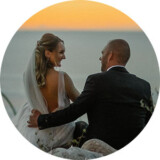 Thank you.
Imre and I are in tears again … You are wonderful. We don't just have words…
Thank you.