What a gorgeous couple and wedding this weekend!
After it has been mostly raining in Sweden for the past two weeks, Peter & Lilian's wedding day in Tylosand absolutely nailed it in every possible way! Beautiful sunset, the calming sound of the sea, delicious food, amazing energy and a lot of dancing mixing together Persian, Macedonian and Swedish traditions.
Loved filming this wedding alongside Fanis & Janny who flew all the way from Greece!
Enjoy the next day teaser that I've put together before flying back home today!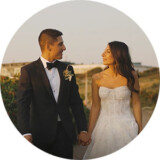 Good morning!!!
We just woke up to this AMAZING video!!!
You're a rockstar Innar!!!!!🥺🥺❤️❤️