Mr & Mrs Molimenti or should I say mr Gatsby and his gorgeous wife?
In what was a definite highlight of the wedding season, a gorgeous bridal couple – inside out – got married at breathtaking Lake Como in Villa Pizzo – dream location where John Legend performed "All of Me" to her wife at their own wedding.
Not only was the setting created by Fanny Staaf Events and Elite Floral Group absolutely perfect, but I think I've never seen a couple enjoying their wedding day as much as Elin and André did. It was such an inspiration to watch and capture how they geniunely loved every moment of their Lake Como wedding day. A real dröm bröllop as they say in Sweden.
Tack and grazie, Isabelle Hesselberg and Sergio Sorrentino. It was a huge priviledge to work alongside such talented and sincere photographers.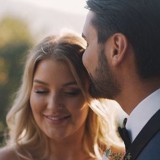 Innar, oh my fucking GAAAAAAAD. You're a genius, what a amazing job and you really made it personal for us.
We are so happy and thank you so much for this video. We can't thank you enough!
THANK YOU!
We loooooooove it!!!
CEREMONY & WEDDING VENUE

WEDDING PLANNER

PHOTOGRAPHY

FLORAL

STATIONARY

WEDDING DRESS

SHOES

CATERING

LIVE MUSIC

Sean Bradford

ENGAGEMENT RINGS

WEDDING VIDEO & FILM

Innar Hunt Films