People visit Tuscany for many reasons. Many come to explore the small villages and enjoy the breathtaking scenery. Food gourmets delight their taste buds with wonderful food and wine this region has to offer. Adventurous guests enjoy the mountain paths, coastline and islands.
David and Samantha travelled all the way from the US to Tuscany, Italy to get married in a secluded villa, surrounded by cypress trees and their closest friends and family members.
With such an emotional ceremony and energetic vibe, this day will be brightly remembered by everyone involved.
Filmed by our talented associate videographer Ramon Jakobs.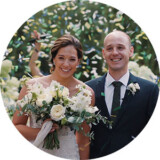 This is perfect.
Thank you for making it exactly what we wanted! Lots of love to the whole team.
Let's do it again in 5 years!