Ida & Roger, from Scandinavia, celebrated their already autumnal wedding in warm Italy, in the historic Relais Sant´Uffizio Spa & Wellness Hotel in Piemonte. Piemonte is one of Italy's most important wine-growing regions, and the wedding venue was right in the middle of the vineyards where the harvest was taking place.
Looking for a banger for ceremony exit?
Look no further!
Hall & Oates hit "You make my dreams" reached number five on the Billboard Hot 100 chart in 1981. Past autumn it rocked again in Piemonte, Italy.
This excellent destination wedding in Italy was filmed by our associate videographer Arbo Rae.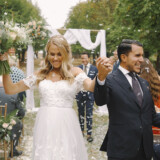 Thank you Innar and Arbo for making this absolute fantastic film of our wedding! We laughed and cried at the same time watching it. We just wish it was even longer (like an hour😉😉) cos you just want to watch more and more!!
So thank you again, very well captured!🙏🇮🇹❤️👏🏼