As difficult as it is to travel at the moment, the couple still found a perfect solution to spend time under the palm trees – the portrait session was held at Botanical Gardens where bride's white dress and groom's dark green suit were an amazing match with the surrounding environment!
The wedding of Berit and Hendrik took place in Tallinn, at Põhjala Tehas, a former manufacturing unit where rubber boots, toys and erasers were made. The manufacturing plant was occupied by busy workers and industrial equipment just 25 years ago, but on that very special day, the rooms were filled with beautiful people and positive energy. Berit and Hendrik met each other at a party in 2012, it was time to throw a proper party again to celebrate their union.
It was also a remarkable day for us as the wedding was filmed by our new associate videographer Ramon Jakobs.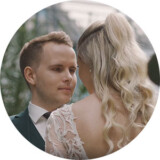 Thank you so much for the video! It really brought a lot of emotions and awesome memories, the whole storyline of the video is so cool and we are extremely satisfied! You captured our day exactly as we wanted 🙂
Everyone who we have shown the video, has said it is so "us" 🙂