Citizens of the world Olla & Ronan celebrated their union under the Great Oak Tree at Kõltsu Manor in Estonia.
Two individuals from different backgrounds came together in a beautiful union, surrounded by family and friends from all around the world. This wedding was a testament to the power of love and how it brings people together, transcending language, culture, and religion.
Sudanese Jertik ceremony
A celebration of love, laughter, and happiness, the wedding day was filled with joyous moments that will be remembered forever. From the traditional Sudanese Jertik party to the emotional exchange of vows, every moment was a testament to the love shared between the couple.
The bride, Olla, looked stunning in her intricate red gown, which was a traditional Sudanese dress passed down from her mother. The groom, Ronan, looked dashing in his sharp suit, and the two of them radiated joy and love as they exchanged vows beneath the Great Oak Tree.
Unconditional love
The reception was a celebration of the couple's love, with speeches from family and friends, and delicious food and drinks to enjoy. The atmosphere was one of love, laughter and happiness, with everyone coming together to celebrate the union of two people who are deeply in love.
For everyone who was there, it was a day they will never forget. A day that showcased the love and unity that can exist between two people from different backgrounds, cultures, and religions. A day that reminded us all that love is truly the essence of humanity.
Celebration of love
This wedding film is a celebration of love, showing how it can bring people together and create a bond that is unbreakable. It serves as a reminder that love is the essence of humanity, and that it knows no borders.
We're proud to present this heartwarming film, capturing the love and unity of this special couple. Join us in celebrating their beautiful union and the power of love.
Our team
Captured by the Innar Hunt Films team led by our associate videographer Arbo Rae.
احتفل مواطنو العالم أولا ورونان باتحادهم تحت شجرة البلوط العظيمة في 6 أغسطس 2022 في كولتسو مانور ، إستونيا. وكان من بين الضيوف أفراد الأسرة وأصدقائهم من جميع أنحاء العالم الذين كانوا عائلتهم الممتدة على مر السنين. تم إجراء حفل الزفاف من قبل صديق عزيز وجزء من سبب التقاء طائري الحب هذين ببعضهما البعض فيلم زفاف يظهر كيف يتجاوز الحب اللغات والثقافات والأديان وهو ببساطة المعنى الحقيقي وجوهر الإنسانية.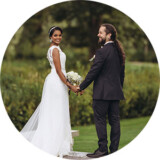 I am so in love with this video and you two 😍😅 I love the concept of the video, the moments captured and the speeches highlighted.
I also love the integration of the Jertik party 💛 We absolutely love how the video describes us. Love love that.
My friends will laugh that you captured the description of me being "Calm" cause that's what my friends always tell me. So spot on!
Love the dancing at the end and the closing of the video. Really love the music and the shots on the credits at the end as well.