Buckle up your seatbelts, as you will need them for this wild ride!
We created a wild dancing corner at the Peter & Lily wedding in Tylösand, Sweden. With some excllent vibes by DJ Raad and our own setup of light and camera, the stage was ready! Wedding guests and of course the newlyweds showcased their wildest dance moves – oh boy, that was a lot of fun as you can see from the video.
After it had been raining in Sweden for the past two weeks, Peter & Lilian's wedding day in Tylosand absolutely nailed it in every possible way! Beautiful sunset, the calming sound of the sea, delicious food, amazing energy and a lot of dancing mixing together Persian, Macedonian and Swedish traditions.
You can enjoy Peter & Lily's full wedding video here: https://innarhuntfilms.com/portfolio/lilian-peter-persian-macedonian-beach-wedding-in-tylosand-sweden/
How did we did we come up with the Wild Dance Corner idea?
It was an old idea actually – shoutout to Mikaela ja Staffan's wedding way back in 206! So during the pre-wedding call with Peter & Lily they asked asked what else cool we could do at the wedding.  So I threw this idea and Peter & Lily ran away with it and the guests absolutely nailed it at the wedding party.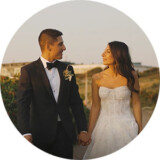 We can't believe the wild corner video😅😅😅😅 Love it!
We are laughing our asses off!