What a gorgeous couple and wedding!
After it had been raining in Sweden for the past two weeks, Peter & Lilian's wedding day in a unique location down by the rocks at Tylösand absolutely nailed it in every possible way! Beautiful sunset, the calming sound of the sea, delicious food, amazing energy and a lot of dancing mixing together Persian, Macedonian and Swedish traditions.
Loved filming this wedding alongside Fanis & Janny who flow over all the way from Greece!
Tylösand is well-known, both in Sweden and outside the country's borders. There are a number of reasons why: Four kilometres of fantastic beach, pulsating After Beach bars, a life-saving school, a top-class golf course, unique restaurants and wonderful countryside. The list never ends. Welcome to Tylösand.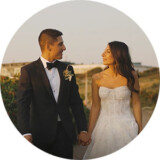 We're SPEACHLESS!!!! And in tears.
THANK YOU!
You made a masterpiece
We created a wild dancing corner at the Peter & Lily wedding in Tylösand, Sweden.
With some excllent vibes by DJ Raad and our own setup of light and camera, the stage was ready! Wedding guests and of course the newlyweds showcased their wildest dance moves – oh boy, that was a lot of fun as you can see from the video.