Maario and Janne met for the first time 4 years ago. In the same place and at the same time. In the Town Hall Square or Tartu, with dinner in Werner Cafe.
Who would have thought that in 4 years they would be here again. Getting married just before the second wave of the COVID, on a wonderful and warm autumn day in Tartu Old Town.
The story of Maario and Janne is telling.
Because, as Shakespeare once said, "The course of true love never did run smooth. You have to be ready for the mounds, but it's only a matter of time before you get there and find your true love."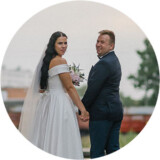 We love it. 😍 is not enough said.
No words!
CEREMONY AND RECEPTION VENUE

OFFICIANT

CEREMONY VIOLINISTS

Mari-Liis Uibo and Leevi Rosin

PHOTOGRAPHY

WEDDING VIDEOGRAPHY
PHOTO GALLERY
We captured Janne and Maario's wedding day in the Old Town of Tartu both in video and photos together with our associate photographer & videographer Arbo Rae.