You can tell Sofie & Kristoffer had been waiting for this day for 2 years! The emotions and tears at their first look say it all – the day had finally arrived! Vilken helg!
The last weekend wedding of Sofie and Kristoffer at Mauritzberg Manor in Sweden was a dream to film & photograph!
It didn't matter that due to restrictions only the closest friends and family were three to attend the wedding, the amazing vibe was absolutely there – just check the joy of the couple and the guests when Albin Johnsen & Kristin Amparo surprised everybody with "Din soldat"!
Sofie and Kristoffer are truly a dream couple (and super handsome as you can tell!) and we felt like part of a family from the very start – can't remember the last time when we got applause from guests when we said goodbye in the evening (#goosebumps).
Aside from wedding video we also provided a livestream of this wedding ceremony as well as photography together with our associate photographer.
✨ Shout-out to amazing wedding planners from Fanny Staaf Events and floral magician Emelie – it's a treat to work with such sincere and professional wedding vendors.
Enjoy the teaser wedding video from the past weekend!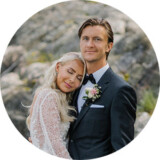 Wooooooow!!!! LOVE IT! You are so good on what you do it's incredible!!!
I'm absolutely blown away.
PHOTO GALLERY
Loved capturing Sofie & Kristoffer's wedding in both video and stills together with our associate photographer Valmar Voolaid.