Yin and yang. Fire and water.
A Northern girl inside whom a fiery Spanish soul rebels married a Southern boy whose soul is reflecting cool Estonian crispness.
As we well know temporary things are the most permanent in life. So it happened that when Ann went to learn salsa and Spanish she wound up couchsurfing with Juan who was eager to practice his English.
Now several years later they chose one of the most unique manors in Estonia – Kõue manor to hold a wedding which as you can tell from the video was filled with plenty of laughs and tears – as you would expect from a a mixture of cultures on a beautiful Estonian and Spanish wedding day!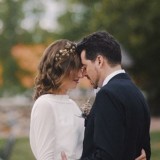 Huge huge thank you for the video!
It's super beautiful and we are extremely happy 😊
CEREMONY & WEDDING VENUE

HOST & DANCING TRAINER

Jorge Hinojosa

CEREMONY HOSTS

Ingrid Mitt & Jesus Sanchez Molina

DECORATIONS

MUA & HAIR

WEDDING DRESS

BRIDE'S SHOES

DIADEM

GROOM'S SUIT

RINGS

RING PAD

Juan's mother Pilar

WEDDING VIDEO & FILM

Innar Hunt Films