Katre and Tõnn hit the jackpot with their wedding, because as Katre aptly described: "Tõnn is my jackpot and a clown forever. Jackpot, because if you win at the slot machines in the casino, it will pop like "tõnn, tõnn, tõnn, tõnn" and then the Jackpot letter will appear.
This idea absolutely relates to whole barn wedding day at Endla talu – emotions, tears and laughter, an awesome team and thoughtful solutions. This wedding couple really nailed it!
And finally, I don't remember such a sincere, talkative and tearful groom since …. 6 years ago at our own wedding day 🙂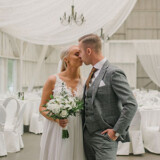 Innar, A-MA-ZING !!! Such a warm and sublime emotions after watching the video :))) I have already watched 6 times 😀
Everyone close to me already knows that for me you, as a videographer, were one of the first decisions and definite wishes when we started making wedding plans. We are heartily grateful to you for coming up with your thoughts and good energy and making such a work of art!
I didn't cry at the wedding myself, but now watching this video, tears flowed! You've made a sooooo beautiful and emotion revitalizing wedding video! It is still unbelievable for us that WE had SUCH a wedding day and now we can remember it all the time thanks to the video 😛
Thank you for being exactly as you are and doing your job and probably a hobby just as you do!
WEDDING VENUE

WEDDING PLANNER

PHOTOGRAPHY

HOST

DECORATIONS & FLORAL

Kaunis Events, La Luna Peod, Different, Kõvernael, Kaardistuudio, EK Design

BAND

PHOTO MIRROR

FIRST DANCE

DJ

Sander Paalpere

WEDDING VIDEOGRAPHY