Next day edit is supposed to be around 1 minute long. Well … Katriine ja Madis had an otherwordly wedding with a vibe that didn't feel like it was in Estonia, but somewhere far away on one of those distant destinations Katriine and Madis love to take adventurous trips to. Just look at that fabulous setting they created on the backyard of their countryside – can you imagine that?
Enjoy the awesomeness from the weekend's wedding that I had the pleasure to be part of and create this teaser for what's still to come!
#herrajaprovvamark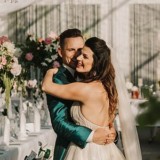 You're not normal! Of my god how cool. We are looking 6th time in row and more to come. Just too awesome.
Can't wait for full video and film!
CEREMONY & WEDDING VENUE

Couple's countryside in Võrumaa, Estonia

PRODUCTION

MUA & HAIR

PHOTOGRAPHY

CEREMONY HOST

Jürgen Oras

WEDDING FATHER

WEDDING VIDEO & FILM

Innar Hunt Films