Katriine and Madis had an otherworldly wedding with a vibe that didn't feel like it was in Estonia, but somewhere far away on one of those distant destinations Katriine and Madis love to take adventurous trips to.
Just look at that fabulous setting they created on the backyard of their countryside – can you imagine that?
Enjoy this epic backyard wedding in 4K resolution!
Teamwork makes the dream work! Hats off to everybody who contributed to this amazing wedding.
Soundtrack by: Airplanes, Trad.Attack! (tradattack.ee) and A. Taylor.
#herrajaprovvamark
Next Day teaser
Next day teaser is supposed to be around 1 minute long. Well … it was not possible to fit all the awesomeness from this wedding into one minute.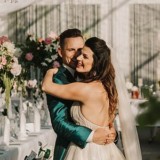 You're not normal!
We've now watched the film way over 10 times and must admit, it's a real masterpiece.
We like it sooo much! Really a high quality short film of our wedding day. We even get a superstar feeling 🙈.
And at the same time so genuine and beautiful. Shots full of real love, together with cool shots. Accompanied by good joke.
Great emotions and perfect memory. Thank you 🙏❤️
CEREMONY & WEDDING VENUE

Couple's countryside in Võrumaa, Estonia

PRODUCTION

MUA & HAIR

PHOTOGRAPHY

CEREMONY HOST

Jürgen Oras

WEDDING FATHER

WEDDING VIDEO & FILM

Innar Hunt Films