The story of Marija and Aivo goes beyond their wedding day in picturesque valleys of Tuscany in Italy.
It was first when a girl from Klaipeda met a boy from Tallinn in the bus station in Riga enabling us to re-create their love story that unfolded across all three Baltic States. With the heart beating I was able to witness how this love story video was premiered to the family and closest friends at the magical wedding next to the lights of historic abbey of San Galgano.
Capturing such an intimate wedding with guests travelling to Tuscany from across the world, it really felt special to be part of these moments.
It's not only the result but the journey that makes the experience unforgettable. Having the opportunity to travel with Marija and Aivo across different countries has been a blast. I'm truly happy that our roads have crossed with Marija and Aivo and their families and I've been able to capture these memories for a lifetime!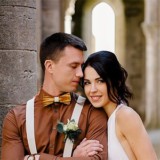 Innar Hunt, you are the best 🙏🏼
And it was definitely one of the best decisions to trust you the video of our wedding day. It's so hard to describe our big respect and admiration of your job, of the results you're giving to people, of the memories and its quality, which will remain in families' collection for all life. Thank you for each detail, for each minute spent on creating the video, thank you of being there with us, thank you for being such a great person – it was a reaaal pleasure to meet you, to work with you! Thank you for accepting us the way we are, thank you for understanding of our feelings and vision, thank you, thank you, thank you!!! I don't know how many times we have already seen the short version and the long one, we love each of them more and more, we enjoy, we laugh, we smile, we cry and thank to you one more time from all our family, for the possibility to always return into this atmosphere and day to remember it forever ❤️
WEDDING VENUE

WEDDING CEREMONY

Abbey of San Galgano

PHOTOGRAPHY

FLORAL & DECORATOR

Larisa Ivanova

WEDDING DRESS

Aljona Gerassimova & Natalia Liventaal