How often do you see a wedding where bride surprises everyone with an awesome dance with her brothers, groom goes roller skating with groomsmen, picks up the bride on bicycle and pushes down the wedding car in socks. Throw in some smoke bombs and you've got a making of a helluva wedding video!
Believe it or not, but it all happened on the wedding day of Veronika and Mikkel who mixed together Estonian, Russian and Danish vibe at one of the most gorgeous castles in Estonia – Sangaste castle.
NB! Butterfly on the opening scene is real – no photoshopping 🙂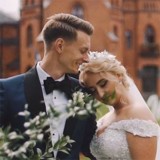 Dear Innar,
Oh my, where to start!
It is quite hard to find words to describe your work, but we will try our best. You are such a talented human being; every single video you make leaves us in awe. Ours wasn't an exception. We laughed, we cried, we screamed when watching our wedding film. The video captures our day so damn perfectly and it reminded us once again how magical it felt.
Once again thank you for making our wedding video, it turned out to be a real masterpiece! It will bring joy to us for years to come, of that I am sure. We couldn't be happier with the result. Thank you Innar and Nele! I hope our paths will cross again someday.
Forever grateful,
Højer family
WEDDING VENUE

PHOTOGRAPHY

MUA

Khatidze Ametova, Ilustuudio Jasmiin

HAIR

Anna Martsuk, Ilustuudio Jasmiin

FLORAL

Perfect day, Anastasia Orlova

MUSICIANS

Urmas Rätsepp, Ahtme musikakool

INVITATIONS

WOODEN ACCESSORIES

Woody Art

HOST

Nikolai Bentsler

BRIDE'S SURPRISE DANCE CHOREOGRAPHER

Ainikki Seppar

WEDDING DRESS

NAVIBLUE bridal from MaryTrufel (Russia)

WEDDING SHOES

Badgley Mischka

GROOM'S SUIT

MOND of Copenhagen

WEDDING VIDEO & FILM

Innar Hunt Films