Bride and groom with Russian and Lithuanian roots celebrate their beautiful wedding day in Saphire Estate in Boston Massachusetts.
We first met Aleksandra and Gregory at their best friends wedding in Italy where we instantly clicked. As Aleksandra said it best: "I didn't know anything else, I didn't know what dress I want, I didn't even know where we want our wedding – would it be Lithuania, Europe or USA but I knew I want Innar to film it".
But due to circumstances above our control I was not able to fly to USA to film this amazing wedding. But even in the most challenging cases, there are always ways to overcome obstacles. So is it possible to create a wedding video that fits your style even if it was filmed by somebody else? Absolutely!
Is it easy? No! But with proper planning it's absolutely possible as was the case for the New England wedding of Aleksandra and Gregory in Saphire Estate wedding venue next to Boston, Massachusetts in USA.
Filmed by Chris Printz Productions I think we were able to capture everything that was necessary and more and create a New England vibe to this wedding video that goes well in hand with the work I have captured myself!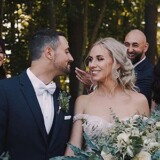 Greg and I are beyond thankful for the amazing video that you have created for us. We cried and laughed and hugged after and cried again!!!
Thank you for creating these special memories for us. You are so talented, profesional and you have amazing attention to detail!