Is it possible to create a wedding video that fits your style even if it was filmed by somebody else? Absolutely!
Is it easy? No! But with proper planning it's absolutely possible as was the case for the wedding of Aleksandra and Gregory in Saphire Estate in Boston, Massachusetts in USA.
Filmed by Chris Printz Productions I think we were able to capture everything that was necessary and more and create a vibe to this teaser that goes well in hand with the work I have captured myself!
Enjoy the teaser in 4K resolution with bride and groom with Russian and Lithuanian roots celebrating their beautiful wedding day in Saphire Estate in Boston Massachusetts.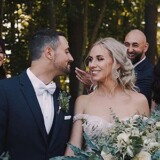 You're so talented ❤️ no words can describe.
Even without being there you feel it and are able to transform it to something that is exactly how it felt that day. I can't wait to see your full work later!