Talk about epic weddings!
Three day Love Festival with amazing vibe that felt like a breath of fresh air during current uncertain times.
Laugther and tears, sun and smoke bombs, olive green suit, dresses and wedding car, personal wedding band, riverside ceremony, 90's disco and suprise performance by legendary Estonian Hip Hop artist – this wedding had it all and moreso!
So ladies and gentlemen – meet Grete and Karl in this Next Day trailer from their epic wedding from the past weekend!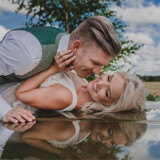 Omg 😭 So good! 😍❤️
Thank you Innar, what you are doing is indescribable!
WEDDING VENUE

MUA

HAIR

PHOTOGRAPHY

HOST

DECORATIONS

FLORAL

BAND

Inga Tislar, Eleryn Tiit & Rahel Ollisaar and the Band

SURPRISE HIP HOP PERFORMANCE

CATERING

DRESS

Suits

WEDDING VIDEOGRAPHY