Imagine an absolutely beautiful Armenian wedding in the heart of Europe in Belgium captured by the team of Estonian videographers and Russian photographers.
This is exactly what we had the joy to film – the wedding day of the kindest people you will ever meet. Спасибо, merci beaucoup and thank you Lilita and Armen for reaching me out all the way from Belgium on such an inspirational note way before your wedding day. It was truly a remarkable ride and I feel like part of your family.
Armenian wedding in Brussels and Mechelen in Belgium
From traditional "выкуп" in the early morning in Brussels, to joyful portraits session time at magnificent Cathedral of St. Michael and St. Gudula, as well as Parc du Cinquantenaire to authentic church ceremony in Sint-Pieter-en-Paulkerk true Armenian style party (I still have the taste of that amazing food in my mouth!) in Mechelen, everything was amazing.
Miracles happen when bride and groom put their heart and soul into wedding video!
Reaction video that brought tears to my eyes
Lastly, I would like to emphasize the favourite moment of wedding film delivery. When Armen and Lilita first watched their wedding video, they also filmed their reaction. It was that time when I got tears myself as well, when we watched with our family how they reacted to the wedding video that means so much to us. And during the COVID-19 virus outbreak, Armen and Lilita used the same approach to deliver the wedding video and also longer wedding film that is private to the family.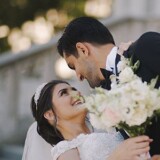 Innar… I don't even know where to start!
We have just finished to watch both movie and … we are beyond emotional and grateful that you, together with Nele, captured that special day for us ! Everything is so beautiful and we looooove the music ! It suits so well the footage and speeches and everything. We love every detail in it, thank you so much !!!
I am super happy that, thankful to the cookies (I think), I came accross your Facebook page back then, where I could watch all your videos and fell in love with your talent !
WEDDING VENUE

FLORAL

PHOTOGRAPHY

WEDDING HOST

Tamada Samvel

BRIDE BOUQUET

Bloemenhuis Mariette

WEDDING DRESS

WEDDING CAKE

WEDDING ACCESSORIES

RINGS

DANCE CHOREOGRAPHY

WEDDING CAR

WEDDING VIDEOGRAPHY