With one of the most memorable and fun wedding ceremonies I've ever captured Emma and Toni united two different cultures – Swedish bride and groom with Nigerian roots came all the way from Shanghai to celebrate their marriage with a blessing from their families and friends.
Just listen to how amazingly their ceremony in Litslena church sounds! An Amazing Grace indeed.
Why do know why Nigerians throw money at weddings?
It's the experiences like these when you can capture something so unique, we cherish our work so much. Toni's family followed old Nigerian traditions and performed money ceremony with older relatives throwing money at the newlyweds when they stepped onto the dance floor.
Emma and Toni share such a great story that I really enjoyed capturing and putting together.
Tack så mycket Clarity Sweden for hosting and driving me around in Sweden this weekend. Can't recommend you enough as wedding photographers! Enjoy the beautiful photo gallery from Clarity Sweden here.
Music licenced via Musicbed. Soundtracks by Anton Belov, Virgil Arles, Benjamin James and Daniel Deuschle.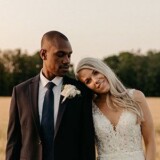 We are so happy we chose Innar as our wedding videographer. He is so easy to work with and his professional and warm approach on the wedding day made us so comfortable. The video really managed to capture the beauty of our mixed cultures and all the emotions we experienced throughout our special day – excitement, joy, laughter and love.
Thank you for making such a genuine, fun, thoughtful and beautiful video. We will watch this video over and over again for the rest of our lives.