There are weddings that are warm, beautiful and will touch you. And then there are weddings that just leave you in awe. The vibe created by American and Estonian synergy at Liisa & Nick wedding day was one of the best I've ever witnessed – truly infectious.
Knowing what Liisa and Nick have been through lately I really wanted them to relive the joy of the wedding day again, in the most authentic way possible. During the hottest period of the summer I locked (quite literally while editing) myself into the story of Liisa and Nick for a week and as a results we've got 7 minutes of pure energy, emotions and amazing vibe.
I really liked what was said at the wedding regarding the synergy of American and Estonian people: "It's things like this I think we need to do more often, in the world frankly. That water tends to separate us little bit too much but when we get down and have an opportunity to actually chit-chat to each other some truths come out. You find is that we really have so many similarities withstanding the distance."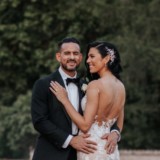 Innar is simply amazing at what he does!
We did a lot of research before deciding to have him capture our wedding day. We knew he is great and had high hopes, but he COMPLETELY exceeded our expectations! He is very thorough and detailed, he listens and sincerely cares. He asks the right questions to truly understand the couple- their story and what is important for them. He is extremely responsive and helpful!
Innar made us feel very comfortable and at ease throughout the entire process. He built trust from the beginning and really delivered.
Not only is he wonderful professionally, he is genuinely a nice person! We are extremely satisfied with the outcome of our wedding video and would definitely recommend him to everyone. We enjoyed working with him a lot!:)
Thank you for your passion for your work! It surely shows in your masterpieces!
Forever grateful,
Mr. & Mrs. Connor
WEDDING VENUE:

PHOTOGRAPHER:

WEDDING PLANNER

WEDDING DRESS

HAIR

Mädleen Mustonen

MUA

WEDDING FATHER

Ingar Dubolazov

OFFICIANT

Nick Puccini

FLOWERS

WEDDING CAKE

WEDDING RINGS

DJ

Petr Petrosyan

PHOTO BOOTH

BRIDE'S SURPRISE DANCE CHOREOGRAHPHER

Britt Kõrsmaa