Wow … what a wedding couple!
My beautiful class mate Birgit shined already back in the days of high school. But this Monday was exceptional! I just couldn't resist not to create a next day teaser of these pure and joyful emotions.
Mikk is a lucky one!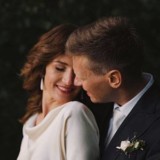 I just don't have words … Oh my god, I'm shaking and can't even write to you … just fabulous!!!
Thank you, Innar! Wonderful video :*
CEREMONY & RECEPTION VENUE

MUA & HAIR

PHOTOGRAPHY

FLORAL & DECORATIONS

Andrea Potter

OFFICIANT

friend Anders

WEDDING FATHER

BAND

CATERING

DRESS

WEDDING VIDEOGRAPHY