While studying at University, Madison worked as a barista where Jameson would frequently grab coffee and study. After small conversations about growing up with large families and being twins and triplets, their small conversations turned into a first date, and then forever love. Madison and Jameson chose to get married in Umbria, Italy to share their love with their families and friends in an unforgettable and beautiful place.
I always enjoy being back in Italy, but I Casali di Colle San Paolo is truly special venue for our family. It is the same venue where we celebrated our 5th wedding anniversary just couple of weeks before Madison and Jameson celebrated their love in the same Umbrian olive valley.
Enjoyed so much being part of this Italian dream!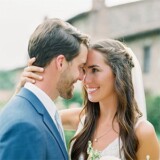 We LOVE it so much!
I love all of the audio and video clips that I didn't get to see during the day, there was so much that went on & I love that we get to see it in the video. It is so beautiful and makes us miss Italy and our wedding so much.
You are so talented and helped make our day so special. We all greatly enjoyed working with you!