Fairytale story
The fairytale story of Merle and Yves is absolutely heartwarming.
They met on a warm and sunny September day in Tallinn almost 7 years ago, in the rooftop cafe of the Radisson Hotel.
You can say that this meeting was written in the stars because Yves was in Tallinn only for one day and Merle had to travel for work to Armenia early next morning.
Yves looked very deep into Merle's eyes and everything changed from that moment on.
Merle and Yves had gone through rough times in their personal lives before that moment it truly was a blessing that hey found each other and turned new pages in their lives.
Wedding in Old Town of Tallinn in Estonia
The story of Merle and Yves means a lot me, as they reached out to me way before their wedding, in time they didn't even have exact wedding plans in place. I still remember vividly our meetings, the trust they had in me capturing their memories and that I was able to share my ideas how their wedding in Tallinn could look like. And of course, little Ella who was all smiles when we had coffee in their apartment.
Because of the importance Tallinn has to the couple and the guests who arrived from around the world, the wedding video also puts an emphasis to deliver the feeling and vibe of historic Old Town of Tallinn – a UNESCO heritage site we are very proud of here in Estonia.
Lastly a fun fact from the wedding venue. I have such warm memories from the historic House of Black Heads (Mustpeade maja) where the wedding was held, as it was the same building we had our dancing courses while I was back in high school!
Save the date video invitation
Long before their wedding day we spent a fabulous day with Merle and Yves from sunrise to sunset in beautiful old town of Tallinn and it's surroundings in Estonia.
Thumbs up to the couple for such an inspiring idea of Save the date invitation video to all the guests that attended the wedding in Tallinn from across the world!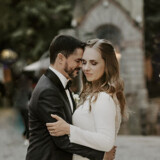 There was a reason why we choose to work with you, there are so many details on why certain footages start at certain times, links between the words and the images, emotions of images and music in sync etc.
Just FANTASTIC work !
You really excel at what you do.
I call it GRIT !!! And you have it, my friend.
WEDDING VENUE

CEREMONY

St. John's Church, Tallinn

PRIEST

Jaan Tammsalu

WEDDING PLANNER

MUA

Aet Viisitamm

FLORAL

PHOTOGRAPHY

WEDDING FATHER

BAND

CATERING

WEDDING CAKE

DRESS

DAUGHTERS' DRESSES

SUIT

RINGS

WEDDING VIDEOGRAPHY