A Dutch groom and Estonian bride celebrated their love with friends family from across Europe at a wedding of an impeccable class and style on the slopes of Lucca in Tuscany. Villa Grabau is a gorgeous wedding venue in Tuscany which absolutely represent a true Italian dream.
This Tuscany wedding in Lucca was part of a roundtrip in Italy, where we filmed 3 weddings across Italy in 6 days. With limited hours of sleep, over 2000 km of driving, amazing sunrises and epic wedding celebrations, it was well worth it!
Merili & Wouter have a special place in our hearts as the kindest newlyweds you could imagine. We will forever have 3 friends (including adorable ring bearer Peanut) in Switzerland.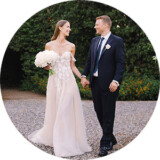 We wanted to thank you from the bottom of our hearts for the incredible work you have done! We could have not imagined the video to be more perfect!
I hope you understand how much joy you bring to the newlyweds 🙂 I remember back at the time we were in the process of picking all the vendors, I spent days looking at wedding videos mainly for inspiration purposes. Nothing that I saw got quite up to your portfolio level – you are truly talented!!
We shared the video with our friends who attended the wedding and so many of them said that it could be a teaser for a Hollywood movie.
It feels so surreal to relive the wedding day moments all over again and it feels so special.
We are so so happy with the work you have done and we are sending you our warmest hugs from Switzerland! 🙂
GETTING READY

WEDDING VENUE

WEDDING PLANNER

PHOTOGRAPHY

MUA

DRESS

LIGHTS

SHOES

JEWELLERY

SUIT

VIDEOGRAPHY & AERIAL PHOTOGRAPHY

SECOND SHOOTER

Madis Kask