When you get a chance to film a wedding on the gates of Game of Thrones King's Landing in historic town of Mdina in Malta, you don't look back. So despite everything the restrictions threw at us (and that left-sided traffic!), we made it work!
We are so thankful to Nicole and Chris for this amazing opportunity to film their Maltese wedding. And beyond that, Nicole and Chris are two of the kindest people and will forever cherish the moments we spent together the evening before the wedding at dinner and during the pre-wedding shoot in Mdina.
People often ask how we create wedding videos in the languages you do not speak. Truth to be told, my Maltese is … work in progress, as I heard this beautiful language at this wedding for the first time.
As storytellers, we need to understand the emotions behind the words. So even if I do not speak Maltese (aside from "Mela"), I tried to feel what was said during the wedding day. So when Nicole said that wedding video made herself and mom cry again and added: "It's like you can understand Maltese 😊" – it's the best compliment a storytelling videographer can have!
Below you can also enjoy the next day teaser that we created immediately after the wedding.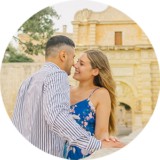 It's amazing!! We love it 💙
It's like you can understand Maltese 😊
Thank you so much!
GETTING READY

CEREMONY

St Peter's Church and Monastery in Mdina

RECEPTION VENUE

PHOTOGRAPHY

MUA

CATERING

WEDDING DRESS

FLORIST

WEDDING VIDEOGRAPHER