This wedding in the most epic wedding venues in Sweden will blow you away!
Dalja & Mohamed were absolutely born for this event as you can tell from the wedding film.
Enjoy this wedding video from an epic wedding in Norrvikens Trädgårdar – a venue we have already scouted in the past and finally were so excited to film at. It is truly a dream garden wedding venue and some of the best wedding venues not only in Sweden but in the region!
Norrviken is famous for its gardens in different styles, created by Rudolf Abelin early in the 20th century. A visionary inspired by various countries and epochs, giving each garden its own, special character later on.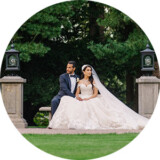 First of all, thank you so much.
We can't describe with words how blown away we are by your talent.
We loved each moment of the videos and we are so beyond happy for choosing you because you captured everything in a perfect way.