Lil & Ruudi's destination wedding in Tuscany Italy was absolutely epic!
On the slopes of Casale de Pasquinelli with a spectacular Lucca backdrop it was just a perfect Italian dream at the start of October. Yes, even the weather was absolutely gorgeous with temperatures inviting all the guys for a refreshing pool dive on the wedding morning (more on that in the video ;).
A friend of the couple was on point saying:
If you were watching an American film about the perfect wedding.
What a celebration of love could be.
You couldn't imagine that.
Today we are witnessing this.
That's wonderful.
What we absolutely loved about Casale de Pasquinelli is that it offers so many opportunities to celebrate a wedding day. From a pizza night on Friday to a ceremony, aperitivo, dinner and party on the wedding day – these were celebrated at different locations around Casale de Pasquinelli, yet just a few steps away from each other. An amazing wedding executed by the team of professionals coordinated by Gina from My Tuscan Wedding.
You might not believe this, but out of all the weddings filmed in 11 countries, it was the very first destination wedding where both the bride and the groom were from Estonia – a country we are located at.
We're so excited to share this Tuscany wedding film!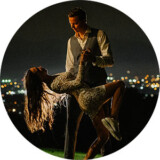 OM MY GOD! EPIC !!!
NO WORDS! 😍😍😍😍
Unreal video, we watched it about 10 times .. and will probably watch more today!
So many thanks to you and Nele.
We will absolutely recommend you to all our friends who are getting married and even for those who are not yet planning!