When the wedding planner is getting married, you can expect extraordinary. When Fanny Staaf gets married, expect perfection.
After 3 years of waiting, Fanny & Andreas finally got married! Yes, the most amazing things in life happen, when you have the patience to wait it ou.
It was a great priviledge to film a wedding of Fanny Staaf Events' founder, a truly dedicated woman who has crafted over 100 weddings and was finally able to walk down the aisle – with a dress that was literally breathtaking!
Eight years ago, me and my wife took our first steps down the aisle to the beautiful strains of "How Long Will I Love You" 🎶
Now, years later, I captured these moments as Fanny walked towards her own future, to the same song that had been such an important part of our own wedding day.
As the harp played a gentle melody, the guests looked on in awe as the bride, Fanny, walked gracefully down the aisle.
The live performance of "How Long Will I Love You" by Ebba Knutsson filled the air, bringing tears to the eyes of all those in attendance.
As Fanny made her way towards her beloved, the pure emotion on her face was evident.
The lyrics of the song, a poignant reminder of the strength of love, echoed through the Norrviken Bastad, adding to the already magical atmosphere. The moment was one of those rare occasions where everything seemed to fall into place perfectly – the music, the setting, and the couple's love for each other all coming together to create a truly unforgettable moment.
For those who had witnessed the couple's journey towards marriage, it was a beautiful sight to see them finally exchanging their vows. The harp music continued to play softly in the background, adding to the intimate and romantic setting.
As the newlyweds shared their first kiss, the crowd erupted in cheers and applause. It was a joyous moment, one that will be forever etched in the memories of all those who attended.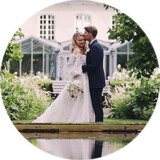 The video, WOW!
It's more than I ever wished for and I cry everytime I watch it. It's so perfect and I love that you put so much focus on the ceremony song as we talked about.
WEDDING VENUE

WEDDING PLANNER & DESIGN

FLORAL

STATIONERY

DRESS

HAIR

PHOTOGRAPHY

BAND & ENTERTAINMENT

CEREMONY SINGER

SUIT

VIDEOGRAPHY & AERIAL PHOTOGRAPHY

SECOND SHOOTER

Arbo Rae