Introducing the wedding of Hanna-Grete and Saryas – a true masterpiece that could easily grace the pages of fashion magazines such as Vogue, Elle, and Harper's Bazaar. With a stunning array of colors, styles, and surprises, this wedding is an event to remember.
The elegance of this wedding was truly breathtaking, but what really set it apart was the unexpected twist. The bride and her bridesmaids changed not only their dresses but also their hairstyles and performed an unforgettable dance routine that left the groom and the entire crowd speechless.
As we look back on this incredible day, it's clear that Hanna-Grete and Saryas went above and beyond to make it unforgettable for everyone in attendance. As it was highlighted several times during the wedding -Hanna-Grete and Saryas, your hospitality is just out of this world!
NB! This wedding has a special meaning for me personally as well, as I put my heart and soul into this while editing this film in Denmark at the hospital for several weeks during our son's treatment far away from home.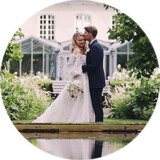 Innar, I'm drowning in my tears of happiness! Your talent to pass on so much is simply indescribable – there are no words for it!
I already knew this film was going to be something amazing, but what you ended up creating goes beyond my imagination ❤️❤️❤️
We can never thank you enough for the gift you have given us!
WEDDING VENUE

WEDDING PLANNER & DESIGN

HOST

OFFICIANT

HAIR

MUA

PHOTOGRAPHY

CEREMONY SINGER

DRESS

MARQUEE SPERRY TENT

CATERING

BAR

CAKE

BAND

NEWLYWEDS DANCE CHOREOGRAPHY

SURPRISE DANCE FROM THE BRIDE CHOREOGRAPHY

SURPRISE DANCE COSTUMES

SURPRISE DANCE BRIDE'S COSTUME

VIDEOGRAPHY & AERIAL PHOTOGRAPHY

SECOND SHOOTER

Madis Kask