🇸🇪 Last weekend was a dream! ✨
At the most gorgeous wedding venue is Sweden, Fanny & John tied the knot on the Oriental Terrace of Norrviken Trädgårdar (fabulous circle ceremony setup is a must-see!) and celebrated with 150 guests from around the world with a reception full of surprises and awesomness!
Enjoy the teaser video & cheers to Klingberg family!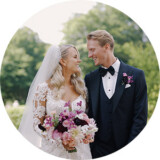 Oh my God Innar, it's sooo beautiful and fun at the same time. We are so happy with it❤️ Thank you so much.