Helen & Jeffrey definitely nailed the choice of an elopement location!
Flying in from the USA they enjoyed surreal elopement on top of Germany at Lake Eibsee with stunning Zugspitze backdrop – at 2,962 m above sea level it is the highest mountain in Germany.
In southwest of Garmisch-Partenkirchen (yes the same town where Winter Olympics were held in 1936) and just a little under two hour drive away from Munich International Airport Lake Eibsee is a well accessible and stunningly beautiful elopement location.
The Eibsee, one of the most beautiful lakes in the Bavarian Alps lies directly at the bottom of the Zugspitze, Germany's highest mountain. Formed more than 3000 years ago by a landslide, the mountain lake offers incredible views.
Best time to visit Lake Eibsee
I would absolutely recommend getting up early to visit the lake during sunrise, with surreal and undisturbed views with the mist on the lake.
Even though it was cloudy, the sunset is also absolutely something else at this crystal-clear, emerald-colored mountain lake with an otherworldly feeling.
Location scounting
I would like to thank our celebrant Yvonne Beck who was super helpful in sharing her knowledge of the location while we were scouting the location before the elopement. It was so helpful to have a plan in place already the evening before when I was walking around the lake and capturing a stunning sunset after the rain had stopped pouring.
Have you dreamed of holding an wedding of elopement ceremony with this amazing mountain lake backdrop?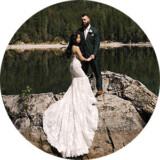 Thank you so much for the incredible video. We are blown away!
We love it and love how you added the clip of our son 🙂 It was very touching.
You were so great to work with and we couldn't imagine having any other videographer there with us to capture our elopement.

ELOPEMENT AERIAL PHOTOGRAPHY
In what was the most spectacular journey, I had the pleasure to take aerials photos of this stunning elopement location in the Alps as well.