Talk about corporate events with amazing vibe!
After an isolated spring, a Swedish company Pro Tempore had the opportunity to gather the gang for a couple of bracing days in Båstad and Norrviken. One of the most decorated area in Sweden with sandy beachfront, Skansken Badet, famous tennis court and "living garden museum" of Norrvikens Trädgårdar in close proximity.
It was such a joy to be a part of this inspiring team and both film and photograph such an joyful event for the whole weekend.
And yes, we will be filming the wedding in Norrviken Båstad next summer, so it was great to scout this amazing location beforehand!
…
Pro Tempore – which translates to "interim" in Latin – is a boutique firm that recruits qualified finance consultants in temporary roles. Their focus is in Western and Southern Sweden (including Copenhagen), but the network allows them to help in other parts of Sweden and the Nordic region as well.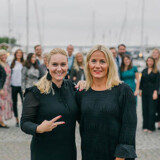 Therese Lorentzon, Pro Tempore
THANK YOU Innar! You are a true professional!
I was always confident you would be able to create your magic. Goose bumps watching it for the first time.
See you in Båstad again soon!!!